Cindy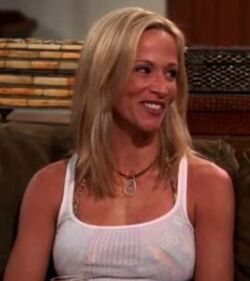 Cindy is a minor one-off character of Two and a Half Men. She is significantly known for not being one of the women that Charlie is able to sleep with. She was the first 'crush' of Jake and a brief friend of Judith's, to whom she taught surfing. She was portrayed by Kristin Dattilo in the series.
History
In "If They Do Go Either Way, They're Usually Fake", after Jake sees Cindy's butterfly tattooed butt, he develops an interest in women's body parts, and later draw her butt as an 'something interesting around the house' for his class work. Due to this, Judith makes a point of visiting and telling Charlie off and to 'clean his act' up when Jake is present in the Malibu house. At a later meeting with him, Cindy was also present. Not knowing that Cindy is the same woman that Jake drew a drawing of, both Cindy and Judith become instant friends due to their shared problems with their fathers, and Cindy teaches Judith to surf. They later go to the movies, and take with them. Due to their sudden association with each other, Alan thinks that both are gay, and have become lovers.
Community content is available under
CC-BY-SA
unless otherwise noted.