Gabrielle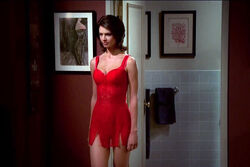 Gabrielle was Charlie's girlfriend until Alan steals her. Her idea of sex is to lie down and endure it.
History
She appeared in the episode "Kinda Like Necrophilia" as a girlfriend of Charlie. When Alan learned that Jake's girlfriend left him and doesn't know why, Alan decides to call his former high school girlfriend, Charity, to ask her why she left him. After that, he realizes that it was Charlie who stole Charity. Hence, for revenge, Alan decides to steal Gabrielle from Charlie and when he does it, Charlie says he feels betrayed by his own brother. Alan apologizes and says he will give her back, but Charlie says it's too late, so he says keep seeing her. But when he and Gabrielle are about to have sex, Alan is "uncomfortable" (because she just lies on the bed doing nothing) and goes home. Ironically, when he came home, he sees that Charlie is with Charity who tells Alan, "now we're even".
Community content is available under
CC-BY-SA
unless otherwise noted.