Ginger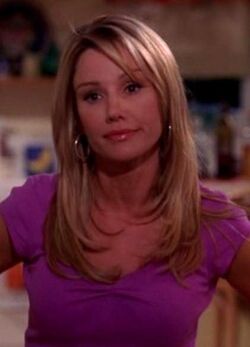 Family members
Sister mentioned

Ginger (played by Jackie Debatin) appeared in the episode "My Tongue Is Meat".
When Charlie goes to apologize to Mia, he finds that Mia has left and now Ginger lives there. Ginger gives lap dances, likes to place bets on sports, eats meat, smokes, drinks and virtually lives the same lifestyle as Charlie.
Trivia
Charlie never really dated her, but he apparently did get a lap dance from her.
She served Charlie baby back ribs for dinner.
She bets money on anything, even had $200 on her sister's pregnancy test.
She used to dance ballet but dropped out because she didn't have the discipline that was required for ballet.
She still dances...just for tips.
She's watches football games on television.
She has a huge collection of liquor, including her brands, Jack, Johnny and Jose.