Linda Harris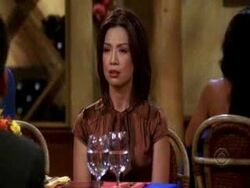 Linda Harris, played by Ming-Na Wen, is a judge whom dates Charlie for a brief amount of time.
History
Linda first met Charlie on a double date set up by Alan, and though Charlie liked her she found him disgusting for his lecherous nature. Charlie is caught by the police for drunk driving and ends up in court with Linda Harris as his judge. She believed it was a flawed attempt to see her again and agrees to give him a second chance, and a fine of 500 dollars. Linda was one of the few woman that made Charlie wait before having sex, though when the time came Charlie couldn't do it because he saw Rose everywhere. He thought it was psychological, though later it is revealed Rose was stalking him again. When Charlie babysits Linda's four year old son Brandon and sings a silly song to help him go potty, Linda's ex-husband hears it and gives Charlie a job writing kid's songs. When Linda is being invited to an award ceremony honoring her, and doesn't invite Charlie, it greatly upsets him. She eventually does invite him, but he is so nervous he takes a pill to calm down, but ultimately gets him high. He embarrasses her to an extent that there is a picture in the newspaper of Linda holding her award and getting her face licked by Charlie. She breaks up with him. When Charlie takes marijuana in season seven and envisions several ex-girlfriends, among them Linda.
Appearances
Community content is available under
CC-BY-SA
unless otherwise noted.