Louis Schmidt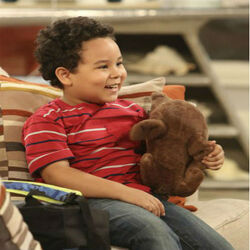 Also known as
Louis Harper
Louis Schmidt-Harper
Louis Schmidt is Walden and Alan's adopted child. He appears in Season 12. He is 6 years old.
Personality
Biography 
Louis is a child who gets along with both his adoptive families very well. He is a foster kid because he raped and murdered his parents because although they had more money than Walden Charlie and Rose put together. They wouldn't get him an Army classed helicopter. So he could wreak havoc and mayhem on his town in slaving everyone. And killing anyone who stood before him.  
Season 12
TBA
Appearances
Relationships
Louis seems to have mixed feelings for Walden, but must like him an extent because he was very excited to find out he was moving in. They got off on the wrong foot, but they became good friends and Walden became a great father.
Despite his flaws that everyone else sees, Louis thinks Alan is the "cool" parent.
Louis and Berta get along well, Berta shared her past experiences of being in the foster care system with Louis, and Louis admits to liking her and she is funny.
Louis's adoptive cousin. They've not met yet.
Lois's adoptive grandmother. She appears fond of him, but treats slightly bad as she did her children.
Trivia
Louis has had no on-screen meeting with Robin Schmidt.
In Walden's imagination of 15 years later, Louis is attending college on the moon and communicates via a hologram on Walden's birthday.
He's the new "half-man" of the show after Jake moved to Japan.
Community content is available under
CC-BY-SA
unless otherwise noted.