Mandi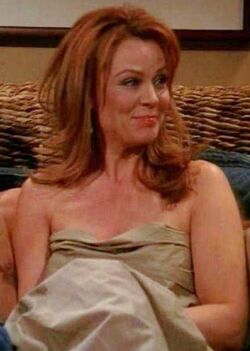 Name
Amanda Elizabeth Donaldson
Mandi
 is
Kandi
's mother, and the ex-wife of
Andy
.
History
She comes looking for Kandi at Charlie's House in her first appearance and ends up having sex with Charlie the whole day and later at Judith's House in the hot tub but they don't notice that Kandi, Alan, Judith and Andi are there
Family
Mandi's family is small. Her daughter and ex-husband have very similar names:
Trivia
It is said that she is much better in bed than her daughter, Kandi.
Mandi can suck a golf ball through 100 feet of garden hose.
When she was in Mexico, she seen a live X-rated performance of The Bride and The Burro, and even caught the bouquet.
Because of the striking resemblance between herself and her daughter, a lot of people mistake Mandi and Kandi for "sisters".