Sherri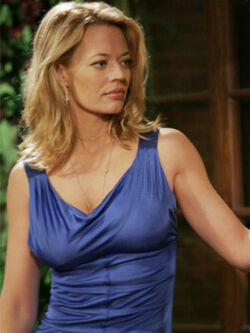 Sherri is a woman who dates Charlie, and later on Alan.
History
Sherri is a woman skilled at playing hard to get, constantly plays Charlie into having sex with her. Normally Charlie wouldn't mind such a thing, but the fact that he was not the user, but that she was, caused him to seek revenge. In another episode, Charlie took Alan to an eye doctor and bumped into Sherri. Alan began dating her, but due to Charlie's previous relationship with her, they ultimately broke up.
In "Nice to Meet You, Walden Schmidt" she appeared with many of Charlie's ex-girlfriends at his funeral, where she called the widowed Rose "a selfish pig" as Rose gave her speech on Charlie Harper.
Trivia
Sherri is considered by Charlie as the female version of himself, at least until A Low, Guttural Tongue-Flapping Noise, when she declared to Alan that she was tired of that life style.
Appearances